AAF Proposes Regulatory Reform That Promotes Economic Growth
Printer-friendly version
AAF Proposes Regulatory Reform That Promotes Economic Growth
WASHINGTON – In conjunction with The Atlantic's event, Manufacturing's Next Chapter, AAF Director of Regulatory Policy, Sam Batkins, outlines the regulatory burden on the manufacturing industry, how it directly impacts consumers, and explains the pressing need for regulatory reform to steer course to smarter regulation.
Regulatory Impact on Manufacturing
There are 12 significant regulations that will impact manufacturers, tallying at least $9.2 billion, on the books for this year alone;
Over the last 10 years, manufacturers have absorbed $359 billion worth of regulations;
Nearly 100 of these regulations with an impact of $100 million or more came from the EPA, Department of Labor, and Department of Energy.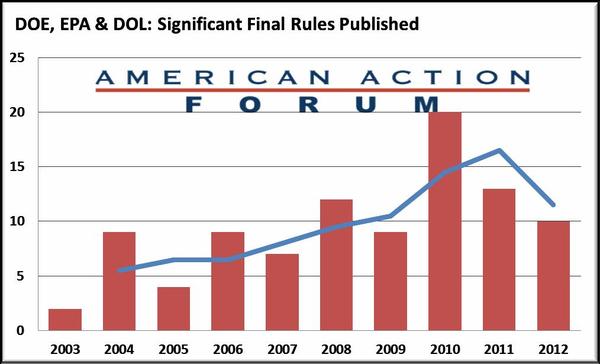 Regulatory Impact on Consumers
EPA estimates Ford owners can expect vehicle prices to increase by more than $2,100 above the baseline because of new efficiency standards.
A new final rule read: "EPA estimated a $10 per person year increase in food costs in the U.S. due to the total annual impact of the RFS2 program."
Framework for Reform
Establish a cumulative cost baseline and attempt to incorporate new cost burdens within the current regulatory framework of each agency;
Strengthen the Regulatory Flexibility Act (RFA) by expanding procedural steps to all agencies allowing small businesses to suggest regulatory alternatives, or even non-regulatory measures that would still achieve the benefit goal.
Read the complete study here.
###